Geantet-Pansiot, Bourgogne Rouge, "Pinot Fin," 2015 ($30 – 45):
Pinot Fin is a clone of Pinot Noir that produces smaller berries and thicker skin, according to the internationally acclaimed wine expert, Jancis Robinson.  It's rarely grown in Burgundy today, because it's a finicky grape to grown, even more troublesome than Pinot Noir, susceptible to many diseases that result in lower yields–meaning, more expensive wine.  Nonetheless, Geantet-Pansiot, one the top producers in the Côte de Nuits (he makes spectacular Gevrey Chambertin and Chambolle Musigny that sell for triple digits) produces a small amount of Bourgogne Rouge from this clone of Pinot Noir.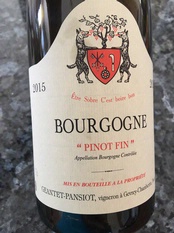 While I remain a great fan of the top Burgundy négociants, such as Bichot, Bouchard Père et Fils, Drouhin, Jadot, and Latour, because of their depth of production and overall quality, I'll be the first to admit that a Bourgogne Rouge (or Bourgogne Blanc) from a top grower usually beats one from a négociant.  These "minor" wines from the top growers often prove to be hidden gems in today's stratospherically-priced Burgundy market.
It's always a good bet that the grapes used to make these wines came from vineyards located near the estate's base. In the case of Geantet-Pansiot, that means Gevrey-Chambertin, Chambolle-Musigny or Marsannay, three renowned villages where he owns vineyards.  Now, don't be fooled.  Geantet-Pansiot's Bourgogne Rouge does not come from within the confines of those appellations.  The grapes likely come from nearby plots that lie outside the limits of those revered appellations.  Hey, it may not be Rockefeller Center, but it's still New York City.
By comparison, négociant Bourgogne Rouge–or Blanc–can come from anywhere within Burgundy, perhaps comparable to New York state to pursue the analogy.  Grower Bourgogne Rouge or Blanc will not be cheap.  But you will get a glimmer of what the producers' wines are like.  Even they may not be able to make, as the saying goes, "a silk purse out of a sow's ear," but often they make wine, as in this case, that hits well above its appellation.
Geantet-Pansiot's Bourgogne Rouge has power and concentration, delivering a healthy dose of dark fruit and earth, as befitting the superb 2015 vintage and the nature of the Pinot Fin grape.  Gangly when first tasted, the wine settled down by the next day, suggesting it still needs a year or two in the bottle.  What it lacks is elegance and finesse–a not so subtle reminder that the French appellation system is based on those attributes, and not just power and concentration.  In other words, bigger is not necessarily better.  (88 Points)
A word about the price.  Wine-searcher.com tells me that the wine is available in just two stores in the U.S., MacArthur Beverages in Washington, D.C. and Astor Wines in New York City, both superb outlets for fine Burgundy.  The dramatic discrepancy in price noted above highlights our Byzantine alcohol regulations.  It is my understanding that MacArthur can import the wine directly, whereas Astor must acquire it from a licensed New York distributor, thereby incurring another mark-up.  It pays to shop around.  But getting it shipped to your home is another matter….
*      *      *
July 2, 2018