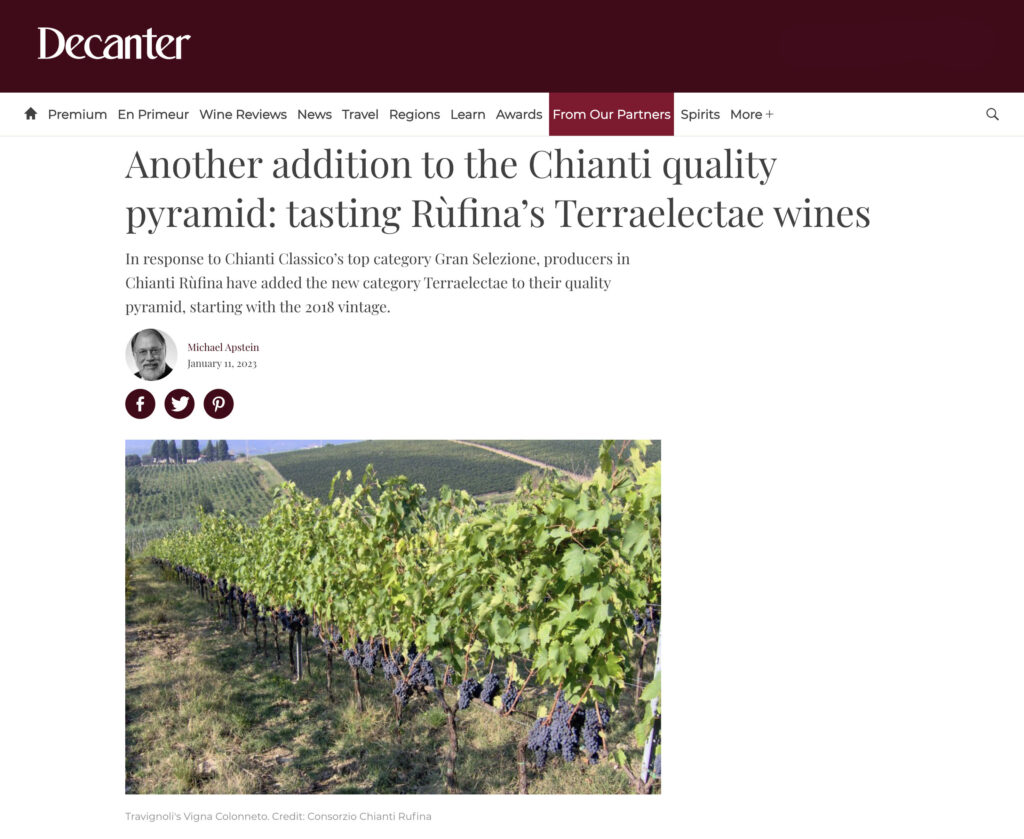 Federico Giuntini Masseti, president of the Chianti Rùfina Consorzio, says that the purpose of Terraelectae – Chianti Rùfina's new top-tier category- is to highlight the special character of the Sangiovese-based wines from Rùfina's unique terroir. The producers hope the category will allow Chianti Rùfina to emerge from Chianti Classico's shadow and be considered a top Tuscan DOCG, like Brunello.
Chianti Rùfina, the smallest of the sub-regions of the greater Chianti area – just one-tenth the size of Chianti Classico – lies about 30 minutes by car northeast of Florence.
With a more rugged terrain and vineyards that lie at a higher elevation, the region has an overall cooler climate compared to Chianti Classico, which gives the wines a more savory and engaging wild component – Gerardo Gondi of Tenuta Bossi, one of Rùfina's top estates, aptly calls the wines 'mountain Chianti.'
Faye Lotero, owner of Fattoria Lavacchio, another leading estate, believes that Chianti Rùfina has an advantage with climate change because of its elevation and wind-swept terroir. Meanwhile, the under-the-radar status of Chianti Rùfina is a boon for consumers because the wines deliver more than their prices suggest.
Terraelectae requirements
The requirements for Terraelectae differ from those of Chianti Classico's Gran Selezione category, which need not come from a single vineyard, nor be made entirely from Sangiovese. In contrast, to be included in the new Terraelectae category the wines must meet Chianti Rùfina Riserva standards, come from a single vineyard, and be made exclusively from Sangiovese.
Other regulations require that Terraelectae be made from a reduced yield (70 quintals/ha) and undergo 30 months of ageing prior to release, 18 of which must be in barrel and six in bottle. The specifics of barrel ageing – size and age of the barrel, and the type and origin of the wood – are left to individual producers.
Each producer in Chianti Rùfina – there are only about 20 of them – can select a single vineyard for their Terraelectae bottling. If the wine meets the requirements and receives approval from a group of Chianti Rùfina producers, it will carry the Terraelectae moniker on the label. The producers themselves, not a regulatory authority, have set the criteria for inclusion and judge the quality and character of the wines.
Ten producers have designated a Terraelectae with the 2018 vintage: Tenuta Bossi, Colognole, Frascole, Marchese Frescobaldi, Grignano, Fattoria Lavacchio, Fattoria Selvapiana, Villa Travagnoli, Castello del Trebbio, and I Veroni.
That three more producers – Podere Il Pozzo, Fattoria Il Lago and Ormae Vinae – opted to wait and release their first Terraelectae with the 2019 or 2020 vintage is either a sign that that the self-policing by producers may be working, or is just an example of inefficiency or indecisiveness.
Predicting the future success of new wine projects is hazardous. Who would have predicted the popularity of Bolgheri wines? That said, Terraelectae has at least one thing going for it – SuperTuscan wines are not common in Chianti Rùfina, so the confusion that has arisen in Chianti Classico about whether a producer's Gran Selezione or their SuperTuscan sits atop the quality pyramid is unlikely to surface.
As the tasting notes indicate, the 2018 Terraelectae releases showed very well, with almost all receiving more than 90 points. If the wines remain high-quality and a unique expression of Sangiovese reflecting the distinctive terroir of Chianti Rùfina, the Terraelectae moniker on the label will be useful to consumers. Self-policing by producers will be critical and will ultimately determine whether the Terraelectae designation elevates the entire region or is meaningless.
The 10 inaugural Terraelectae wines:
Fattoria Selvapiana, Vigneto Erchi Riserva, Chianti Rufina 2018
Fattoria Selvapiana, one of the area's top producers, designated their 5ha Vigna Erchi, a site that has more iron in the soil compared to their iconic Bucerchiale vineyard. Owner Federico Giuntini thinks the difference in terroir explains why Vigna Erchi produces a bolder wine. Extraordinary elegance and a silky suaveness complement the bold dark fruit character. Though aged in French barriques for 18 months, there's not a hint of oakiness on the palate; you just feel its influence. A classic example of muscle and refinement, the wine delivers enlivening freshness and great length. The tannins remain polished and unobtrusive even after holding the wine in the mouth. It's a youthful wine, to be sure, but its impeccable balance predicts a long life and glorious evolution.
Frescobaldi, Vigna Montesodi Riserva, Chianti, Rufina, 2018
Marchese Frescobaldi are based in Chianti Rùfina and are by far the largest producer. They have been making wine from their 20ha Vigna Montesodi for decades, and by labelling this iconic wine as 'Terraelectae', it gives immediate credibility to the entire project. The southwest exposure of the vineyard containing well-drained clay and limestone likely explains the wine's stature, and the wine is aged in large 30hl French and Austrian oak. Both powerful and elegant, the suave texture of this youthful wine is captivating. It unfolds and blossoms as it sits in the glass. A long and explosive finish highlights its dark fruitiness and minerality. In a word, wow!
Tenuta Bossi, Vigna Poggio Diamante Riserva, Chianti Rufina 2018
Marchese Gondi's estate, Tenuta Bossi, which dates from the 16th century, opted to use the best section of their southwest-facing Vigna Poggio Diamante for their Terraelectae. Located at about 250 metres above sea level, its galestro soil is remarkably well-drained thanks to calcareous sediment. The wine is aged in a combination of large Austrian oak barrels and used barriques, and the result is a mid-weight wine that exudes delicacy and grace. Gorgeous cherry-like notes on the nose and the palate announce Sangiovese, and the texture is paradoxically suave and firm, Burgundian in character with stunning purity and length. Finely honed but apparent tannins remind you its a youthful Sangiovese-based wine.
Fattoria Lavacchio, Vigna Casanova Riserva, Chianti Rufina 2018
Faye Lotero of Fattoria Lavacchio selected their 1.8ha organically farmed Vigna Casanova for their Terraelectae label. Planted in 1963, the clay- and limestone-filled vineyard sits at 450 metres and faces southwest, which allows for good ripening of the Sangiovese. They ferment the wine in temperature controlled stainless steel tanks for about three weeks, before ageing it in 15hl barrels made from oak grown locally in the Florentine mountains. The wine delivers fabulous floral aromatics followed by a chocolate-tinged dark fruitiness. This suavely textured wine has an alluring smoky, savoury side. Both powerful and elegant, Vigna Casanova's great acidity keeps it fresh while fine tannins provide plenty of structure.
Grignano, Vigneto Poggio Gualtieri Riserva, Chianti Rufina 2018
Grignano relied on a 1.8ha portion of their southeast-facing Vigneto Poggio Gualtieri, which they consider their best vineyard, for their 2018 Terraelectae. The wine ages in a mixture of large oak casks and barriques. Grapes from the oldest, 30-year-old-section, the Monte Fiesole plot, provide noticeable and welcome power. The flavour profile here tends toward darker cherries mixed with alluring earthy notes, imparting a lovely not-just-fruit complexity. It maintains great freshness and refinement, too. In short, an exciting young wine.
Travignoli, Vigna Colonneto Riserva, Chianti, Rufina 2018
The clay and limestone Colonneto vineyard, a 3.1ha expanse, is ideally situated, facing south at 310 metres high. Clemente Busi, whose family owns Travignoli, explains that they selected only a small portion of the vineyard for the Terraelectae bottling, giving them the option to expand production as the market demands. Aged in 25hl oak casks for 24 months, the wine is amazingly complex, especially considering that it was the first commercial release from only 10-year-old vines that were harvested by machine. Its depth, concentration and tannic structure belie its meager – by today's standards – 13.5% stated alcohol. Dark mineral notes intermingle and complement black cherry-like flavours. An enlivening fresh finish amplifies this youthful wine's elegance and stature.
Colognole, Vigneto Le Rogaie Riserva, Chianti Rufina 2018
The Nunzinate brothers, Mario and Cesare planted Vigneto Le Rogaie about two decades ago. They could have extended it another 100 metres but didn't because the soil in that section was slightly more acidic and not hospitable to the clones and rootstocks of Sangiovese they chose. The upper part of the 2.1ha vineyard, situated at 420 metres and comprised of a complex soil of clay, sand, silt and limestone, provides the fruit for this Terraelectae. It undergoes a three-week maceration in 50hl stainless steel tanks followed by 20 months in large 25hl Slavonian oak barrels. The resulting wine leads with gorgeous floral nuances followed by juicy sour cherry notes on the palate. A beguiling spicy and savoury character juxtaposed with those cherry hints makes this midweight wine sing. Fine, ripe tannins and bright acidity provide appropriate structure without astringency.
Castello del Trebbio, Vigneto Lastricato Riserva, Chianti Rufina 2018
Castello del Trebbio, constructed in the 12th century by the Pazzi family, has been making a Chianti Rùfina Riserva from their 2.6ha Vigneto Lastricato for decades. They made a rigorous selection of 2,600 bottles for their Terraelectae bottling in this inaugural 2018 vintage. Ana Baj Macario, who, with her husband Stefano Casadei, owns the property, says that though they are not certified as biodynamic, the farming is organic and they follow biodynamic principles. Fermentation occurs in clay amphorae. The resulting wine is fresh and floral, with juicy, sour red cherry-like nuances. An attractive angular firmness balances the bright fruitiness of this mid-weight wine.
Frascole, Vigna alla Stele Riserva, Chianti Rufina 2018
Frascole, whose vines have been tended organically since 1999, selected the southwest-facing Vigna alla Stele for their Terraelectae label. Situated at 360 metres, this 0.72ha clay- and loam-filled vineyard is one of Rùfina's highest, which explains why it is typically harvested a week later than the others. Fermented in open-topped 500-litre tonneaux without temperature control then macerated for about 20 days before ageing in French oak barrels for 18 months helps explain its darker, more muscular profile. The fruit is reminiscent of plums rather than cherries. Very structured and youthful, its power is front and centre at this stage, while ever-present Tuscan acidity keeps it fresh.
I Veroni, Vigneto Quona Riserva, Chianti Rufina 2018
Luca Innocenti, I Veroni's longtime marketing manager, describes the southwest-facing 5.5ha Vigneto Quona as 'on a gold hill with spectacular exposure to the sun.' Sitting at 300 metres with clay and sandy soil, it – like all their vineyards – has been farmed organically since 2013. The wine is barrel fermented and then aged in a combination of large oak casks and barriques for 18 months. Engaging floral notes pull you in and give way to a weighty wine redolent with dark cherry-like fruitiness. Though the acidity keeps it fresh, the tannins are prominent in this youthful wine and need time to smooth out.