Let me get right to the point. The 2020 Aligoté from Domaine du Cellier aux Moines is the best Bourgogne Aligoté I've ever had, and I've had one from Coche-Dury. Why is it so stunning? Firstly, this Aligoté, labelled "Sous les Roches," comes from a vineyard in Montagny planted in 1945. Secondly, the extremely focused and talented team at Domaine du Cellier aux Moines made the wine.
Although Aligoté represents only about six percent of vineyard plantings in Burgundy today, it has played a much bigger role in the past. In the 19th century, before phylloxera, growers intermingled Aligoté with Chardonnay in grand sites, such as Corton Charlemagne and Montrachet, and blended the two grapes in the winery. After phylloxera, Aligoté fell out of favor and its acreage declined. Now it is usually planted in less renowned sites, frequently on flatter lands in the plains, and often—all too often—winds up being used for making Kir, a popular Burgundian aperitif.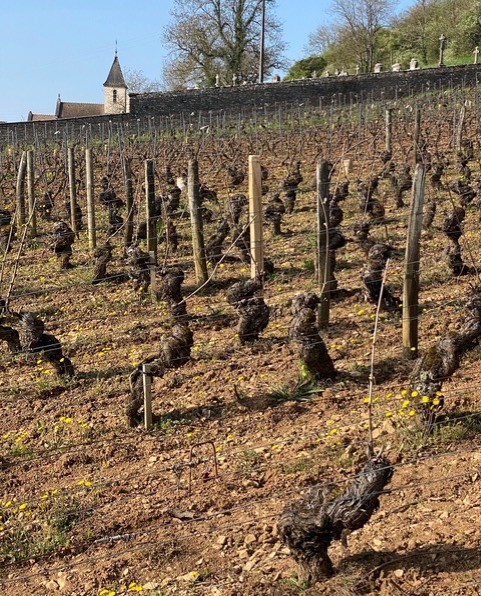 The appellation, Bourgogne Aligoté, is an anomaly in Bourgogne, the epicenter of terroir-based viticulture, because it is named for the grape, not the site. The grapes for Bourgogne Aligoté can come from anywhere in Bourgogne, from the Côte Auxerrois in the north near Chablis to Mâcon in the south. (The French prefer the use of the term Bourgogne, rather than Burgundy because that's the traditional name of the region. Plus, in French, burgundy can be translated as maroon or Mon Dieu, Bordeaux.)
Before we get to the wine, a bit of the backstory. Philippe Pascal, whose family today owns Domaine du Cellier aux Moines, explains that Raymond Corneloup planted the vines, a sélection massale, in 1945 to celebrate the end of World War II and the surrender of Nazi Germany. (A massale selection, in contrast to a clonal selection, is a selection of many different vines, each displaying a unique characteristic, to maintain the genetic diversity of a vineyard.) Corneloup, who owned vineyards and worked in Montagny, chose limestone rich soil on one of the highest slopes in that village near an old quarry, hence the name of the wine, "Sous les Roches." When Raymond's son, François, took over the property, he continued his father's tradition of selling the grapes to the local Montagny co-op. That is until he retired, at which time he agreed to a long-term contract with Pascal and the Domaine du Cellier aux Moines in neighboring Givry. Today Pascal and his team do all the farming, vineyard work, and harvesting in addition to the winemaking.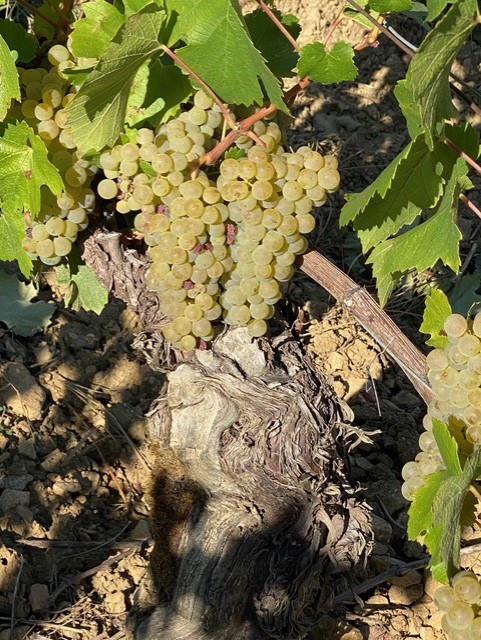 Pascal notes that they have not done DNA testing to determine if any of the vines in Sous les Roches are the Aligoté Doré planted in Bouzeron, which are today felt to produce superior wines (see Ian D'Agata's article: Understanding Bouzeron, Its Terroir, And the Great Wines of Domaine de Villaine). But he notes that the grapes are clearly golden at harvest, like those of Aligoté Dorée, because they wait for perfect phenolic maturity. Sous les Roches is tiny, only one-fifth of a hectare and the production equally minute, about 1,500 bottles in 2020.
Domaine du Cellier aux Moines 2020 Bourgogne Aligoté Sous les Roches                       96
With both minerals and fruit on the nose, it is no surprise that those components of the 2020 Domaine du Cellier aux Moines Bourgogne Aligoté "Sous les Roches" caresses the palate. This thoroughbred displays incredible power and grace. An enveloping creamy richness and riveting mouthwatering saline-like acidity amplifies its appeal.  You'd be excused if you failed to identify this beauty as Aligoté because of its depth and complexity. I repeat the advice that Philippe Pascal gives when showing this wine to visitors, "Do not make a Kir with it." Its cutting edginess and luxurious body would, however, make it a good choice with a vast array of sushi, Cantonese dishes, and even bolder Asian fare. Planted in the correct site and farmed, vinified, and aged seriously in the cellar, Aligoté can develop in the bottle just like the grandest Chardonnays. Ponsot's Morey St. Denis Premier Cru Monts Luisants, made entirely from Aligoté, shows just that, developing a layered complexity with a decade or more of bottle age. Though Domaine du Cellier aux Moines' Aligoté is breath-taking now, I suspect it too will develop divinely with bottle age given its balance and pedigree. The problem, of course, will be keeping your hands off it. Drinking window: 2023-2030.