Will Paul Hobbs be the Rocket that launches New York's Finger Lakes region?
Every under-recognized fine wine region needs a high-profile producer to be a locomotive to pull it onto the world's stage. With his new venture, Hillick and Hobbs, named after his parents, Joan Hillick and Edward Hobbs, Paul Hobbs just might do it for New York's Finger Lakes. Robert Mondavi did it for California in the 1970s. At about the same time, Angelo Gaja drew attention to Piedmont and Piero Antinori's work shined a bright light on Tuscany. The Drouhin family did it for Oregon in the 1980s. Well-known names either go to an area—Drouhin in Oregon—or just by making and promoting superb wines in their home region—Mondavi, Gaja, and Antinori—bring attention to the entire region. That's not to say there aren't excellent producers making world-class wines in the Finger Lakes today. That's just the point. There are, Hermann J. Weimer, Dr. Konstantin Frank, and Ravines Wine Cellars, to name just three.  It's just that too few people know about them and the region. Hobbs' presence will change that by putting a spotlight on the entire Finger Lakes region.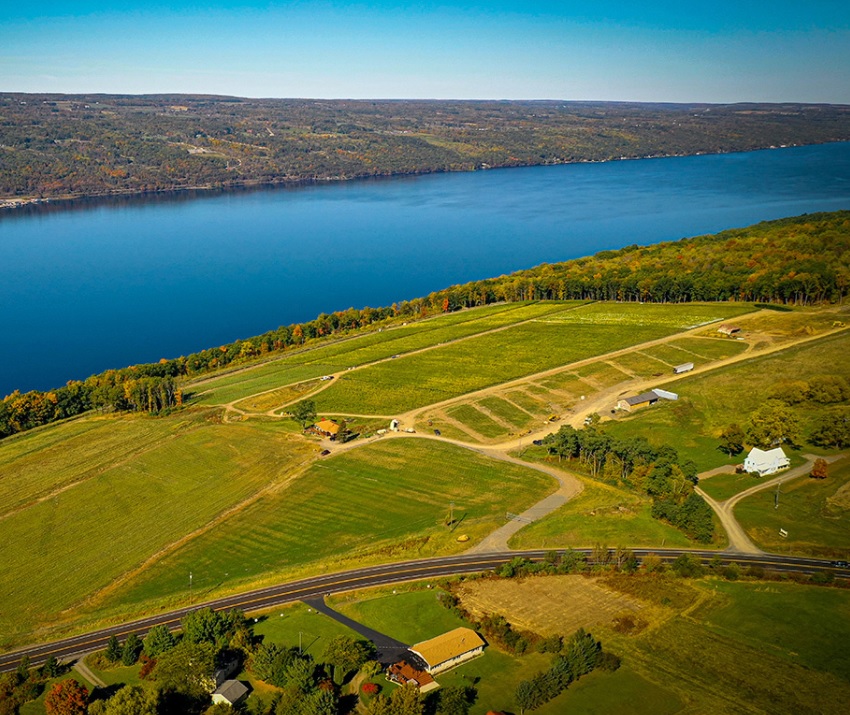 Paul Hobbs, one of California and the world's leading winemaker, needs no introduction. He was among the first, if not THE first of the "flying winemakers," those who consult in the Southern Hemisphere, effectively doubling winemaking experience. Critics consistently score his wines highly. Hobbs' Napa Valley Cabernets and Russian River Valley Pinot Noirs routinely command triple figure price tags upon release and sell out quickly, but Hobbs has plenty of experience outside of California. He has partnerships all over the world, Viña Corbos (Mendoza, Argentina), Crocus (Cahors, France), Yacoubian-Hobbs (Vayots Dzor, Armenia), Alvaredos-Hobbs (Galicia, Spain), but what he is doing in the Finger Lakes is completely different, both commercially and viticulturally, from everything he's ever done before. As with all his other projects, beginning all the way back to 1991, when he started in California, Hobbs has purchased fruit from top-quality growers with choice vineyards in unique terroirs whose viticultural practices met his exacting standards. He would make the wine, bottle it under his label, but also crediting the grower. He explained that it made sense commercially because start-up costs were much lower and "there was less investment if it failed." It would be seven years after he first purchased grapes from Larry Hyde in Napa and Richard Dinner in Sonoma in 1991, for Hobbs to acquire his initial vineyard, which he named the Katherine Lindsay Estate, in honor of his great grandmother.
However, in the Finger Lakes, though he searched high and low, he could not find growers who could meet his standards and supply him consistently with grapes that met his specifications. So, he recruited his brother, David, who lived in Upstate New York—that's what everyone who lives south of Albany calls it—and knew something about farming, to help find land suitable for vineyards. He knew it would be expensive, but he wanted to make world-class Riesling, so he felt it was the only way to go. Finally, in 2013, they acquired a 78-acre property, which had mostly never been planted, on the southeastern shores of Lake Seneca. Never mind that he had never made Riesling commercially before. He explained that he has always been fascinated by it, calling it his "gateway 'drug' into the wine world."
Hobbs' journey into wine was unusual, to say the least. Hobbs had been raised in a tea-totaling fruit farming family in Niagara County in Upstate New York. (Hobbs' mother prohibited alcohol since her brother died of an alcohol-related accident.) In the late 1960s, his father wanted to diversify from orchard fruit and had secured contracts to supply grapes to local wineries. To convince Paul to run the farming aspect of this new project, he lured him with his first taste of wine, a 1962 Château D'Yquem served in a Dixie® cup. Hobbs recalls that his mother thought it was some exotic fruit drink—a reasonable assessment—and was happy until she saw the bottle.
At Notre Dame, Father James McGrath, his Botany professor, asked him to join his wine appreciation course. Hobbs declined at first because of his mother's prohibition but then, using a time-honored technique—always choose which parent to ask when you need something—he asked his father, who consented. As the younger Hobbs tells it, his father and Father McGrath "colluded," to convince him to attend the University of California at Davis, where he received a Master's in Food Science in Department of Enology, instead of medical school. At Davis, he was a member of a tasting group that invited producers from all over the world. That's when he really discovered great German Riesling and became fascinated by the grape. To this day, he speaks fondly of how he loves the German precision on the label. For years he managed to make side trips to the Mosel whenever he was in Europe. So, why did it take him forty years to make Riesling? Perhaps, like so many of us, he simply put off things he really wanted to pursue until later in life.  He explains that for decades his world was California, then Argentina. But he always wondered where you could make great Riesling, like J.J. Prum's. Around 2009, on another leg of his globetrotting consulting, this time for Stratus Vineyard located in Canada's Niagara-on-the-Lake in Ontario, the proximity to the Finger Lakes got him thinking, like "a seed waiting to germinate," about Riesling.  He felt that the shale and slate-filled soil and steep slopes cascading down to the lakes was similar to the topography of the Mosel. He had already been looking for sites in Washington State and Oregon, but he found "nothing compelling."  You could, he felt, "make good, but not great, Riesling there."
Hobbs plans to focus on Riesling exclusively, with "no burning desire to try other varieties," though when pushed, he admits to thinking about Blaufränkisch. But he emphasizes his attention with be on making "great Riesling." He's not doing it to make a living—he clearly doesn't have to—but rather to "see what we can do in the U.S. to compete with the world." He realizes it's an outsized investment in time and money.
There are challenges. Some years they get very little rainfall. Coupling that with some of the rootstocks they've chosen and the well-drained rocky soil, means that they may need to resort to drip irrigation, something Hobbs did not expect. There are steep slopes and rocks that need to be conquered to plant rows up and down the slope instead of across, a system that allows for better airflow, the need for less pesticide and better drainage, but results in greater labor costs. Manual harvesting, which Hobbs insists results in better wine, adds to the expense.  Depending on the year, they may perform labor-intensive leaf thinning and/or a green harvest. All in all, Hobbs' practices are expensive, but result in better quality grapes, which is what he's after. Hobbs proudly notes that with these measures they keep their yields to only about three tons per acre of grapes, roughly half to one-third of what is standard in the area. Another challenge Hobbs faces is selling Riesling, which has been embraced by wine critics and wine geeks but not consumers who are put off by the unpredictable level of sweetness. To combat that fear, Hobbs is fixated on a completely dry style. His labels prominently proclaim, "Dry Riesling." He is positioning Hillick and Hobbs Riesling at US$35, which he admits is a bargain for the quality—and I agree—and would like to see it at US$50 a bottle. To keep costs down, Hobbs built a temporary winery in Ovid, about 30 minutes away from their 22 acres (out of a possible 47) of planted vineyards. He plans a state-of-the-art winery in the future and will convert the Ovid facility to a warehouse.
The winemaking for Hillick and Hobbs Riesling depends on the vintage. To date, Hobbs finds that he achieves full physiological maturity by late September/early October with low sugar levels, of only about 20.5 to 22 brix. The amount of skin contact varies year to year. He favors whole cluster pressing with the juice going into stainless steel tanks, keeping a close eye on how much press juice goes into the finished wine. No sulfur goes into the juice. Fermentation, using native yeasts, is long and slow, sometimes finishing in the following spring. Towards the end of fermentation, he might add sulfur to kill bacteria, preventing malolactic fermentation and allowing the yeast to finish their job. Hobbs remarks that the climate of the Finger Lakes and his viticultural practices means he never needs to acidify the wine. With his name and his established projects all over the world, Paul Hobbs already has a robust distribution network for export. Though he made only 1,845 cases of Hillick and Hobbs Riesling in 2019 and only 1,765 cases in 2020, he's already exporting it to Japan. He envisions expanding to other Asian countries and the U.K. soon. He hopes that exportation will help make the world realize the potential of the Finger Lakes region for distinctive, top-quality wine. Hillick & Hobbs has released two vintages, the 2019 and 2020, so far. Both are sensational (full tasting notes below). Riesling fans will love this duo of Riesling. Non-Riesling fans will be converted by them. They plan to release the 2021 in the spring of 2023.
It's ironic that the winery is named, in part, after his previously tea-totaling mother. At least they no longer must drink Château D'Yquem from Dixie® cups.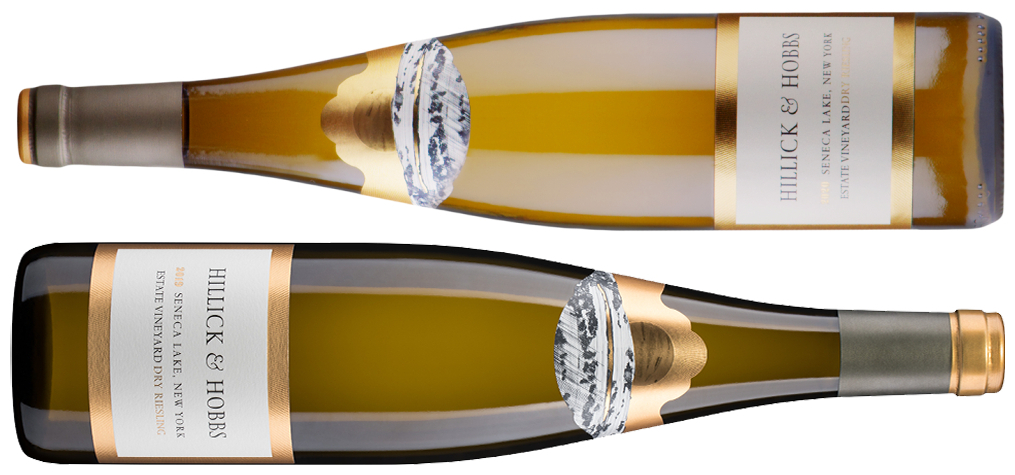 The wines in this tasting
Hillick & Hobbs 2020 Riesling Estate Vineyard Seneca Lake New York USA                             96
Floral hints announce good things will follow. And they do. This stellar Riesling delivers alluring subtle peach-like nuances balanced by firmness and flintiness. It has substantial weight and density, but without a trace of heaviness. Electrifyingly dry, its riveting saline minerality amplifies the wine's charms. Befitting an excellent wine, it blossoms as it sits in the glass. Deep and long, it finishes with a delectable hint of bitterness. (12.5% stated alcohol). Drinking window: 2023-2030.
Hillick & Hobbs Riesling 2019 Estate Vineyard Seneca Lake New York USA                              93
The 2019 was the first commercial vintage at Hillick & Hobbs. It's slightly less explosively delightful than the glorious 2020, which may be a result of an extra year in the bottle, vintage variation, or just a learning curve. Nonetheless, it's an exciting bone-dry Riesling that delivers a harmonious complexity of subtle fruitiness and stoniness. A delicate hint of white flowers on the nose complements its palate-cleansing edgy minerality. Like the 2020, it is long and refined. (12.5% stated alcohol). Drinking window: 2023-2030.