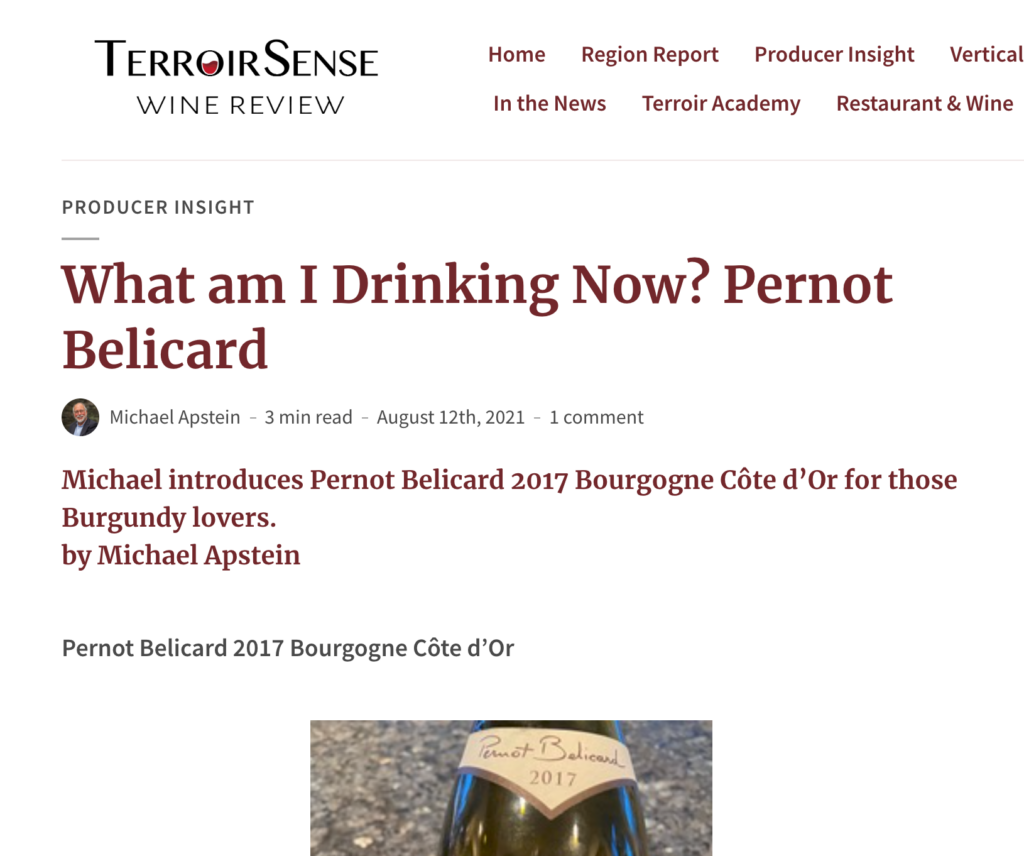 Pernot Belicard 2017 Bourgogne Côte d'Or
Domaine Pernot Belicard is a name to remember because it will soon be included among the top names for white wine in all of Burgundy. The Pernot part is Philippe Pernot, grandson of Paul Pernot, a legendary producer in Puligny-Montrachet. Philippe started in the family cellars at a young age, so even though he is still a young man, he has plenty of experience—not to mention a superb teacher—behind him. Belicard is his wife's family name and with their marriage came the vineyards, which had been in the family for decades. Prior to their marriage, the family either sold grapes or leased their vineyards. In 2008, Philippe took over his in-laws' domaine and used those grapes for his wines. He is letting the leases on the other family vineyards expire so he can increase production in the future. Eventually, he should inherit some of his own family's vineyards too, expanding Pernot-Belicard even further. Given the quality of his wines, that is good news for consumers.
The Pernot Belicard domaine is small, only 4.5 hectares, and, at this stage, produces only about 30,000 bottles of white wine. The vineyards are mostly in Puligny-Montrachet, where he has seven plots that he blends to achieve a harmonious expression of a village Puligny-Montrachet. In some vintages he bottles an exceptional Puligny-Montrachet Vieilles Vignes from one of the plots. He also has small parcels in three of that village's Premier Crus: Champ Gain, Champ Canet, and Perrières. All three of his Puligny Premier Crus are chiseled, distinct and reflect their respective sites. He also has vines in Meursault from which he makes a spectacular Meursault Vieilles Vignes and a stunning Meursault Les Perrières-Dessous. He produces a small amount of elegant white Beaune Premier Cru from the from Pertuisots. With the 2018 vintage, Philippe added a little Aligoté and additional village Puligny-Montrachet from his family's holdings.
The grapes for this 2017 Bourgogne Côte d'Or come from six plots totaling 2.3 ha on the lower portion of the slope just outside of the boundary of the Puligny-Montrachet village appellation. With the 2017 vintage, Philippe opted to use the new regional appellation, Bourgogne Côte d'Or to indicate that all the grapes came from vineyards within the Côte d'Or as opposed to the broader labeling, Bourgogne Blanc, which encompasses vineyards throughout all of Burgundy.
The grapes for the 2017 Bourgogne Côte d'Or, like all his grapes, are hand-harvested. Half of the juice is fermented and aged in older oak barrels—the other half in stainless steel tanks. He performs no batonnage and, in keeping with his low-intervention philosophy that the wine should reflect the site, he explains that the wine determines when the malolactic occurs—sometimes in November, sometimes in January. If necessary, he performs a soft fining and filtration before bottling. Pernot Belicard's firm and mineral-y 2017 Bourgogne Côte d'Or displays good depth and definition, punching far above its weight category. With exceptional length and stature rarely seen in a regional wine, it delivers more enjoyment that many producers' Puligny-Montrachets. And—at half the price (roughly USD 30). Drink now and over the next five years.
Since all of Pernot-Belicard's 2017s are top-notch, I recommend buying whatever you can find and afford. He also succeeded admirably with the 2018s by harvesting early, the end of August, to capture the acidity, which makes those wines easy to recommend as well. I highlight this 2017 Bourgogne Côte d'Or because it takes real talent to make a sensational wine from less exalted terroir—and it's a bargain.