E. Guigal's consistently stunning "classic" Hermitage, as Philippe Guigal refers to it, as distinct from their Ex Voto-bottling, dispels several wine myths. First, it shows that a négociant bottling can be superb. Secondly, and more surprisingly perhaps, is that Guigal buys, get this, wine, not grapes, for much of their 45,000-bottle annual production. Philippe, who, with his father, Marcel, is in charge, explains that they have contacts from growers that date from when his grandfather, Etienne Guigal, worked at Vidal-Fleury. When Etienne left Vidal-Fleury to start E. Guigal in 1946, many growers followed him. Fred Ek, Guigal's long-time U.S. broker and importer, told me, "They know where and what to buy and are willing to pay for it." Philippe adds with a smile, "We recognize quality. It is normal that quality costs more, so we pay more, and we pay very quickly, which is a big difference."
Philippe explains that while today the house does buy more grapes for their classic Hermitage than they once did, they still do buy some wine. When they buy wine, Philippe adds, they prefer to do it as soon as possible after the alcoholic fermentation, sometimes even before the malolactic fermentation has been completed. Ideally, they would like the wine to be vinified in Hermitage, racked, and then moved to their main winery in Ampuis for élevage.
Importantly, now that they own vineyards in Hermitage, wine that they feel is not up to their high standards for Ex Voto will go into the classic bottling. In 2001, Guigal acquired vineyards on the Hermitage hill when they acquired two firms, Jean-Louis Grippat and de Vallouit, within four months of each other. Guigal's Ex Voto Ermitage comes from four parcels, with different soils, comprising 2.2 ha scattered over the hill. (Please note that regulations for the appellation allow wines from Hermitage to be labeled either Hermitage or Ermitage. Traditionally, but not invariability, producers will label their normal cuvée Hermitage, reserving Ermitage for their top cuvée.) The 0.65-ha piece of Les Bessards has a granite base while the same size parcel of Les Greffieux lies mostly on gravel. Completing the blend is 0.45-ha of the alluvial-based Les Murets and a similar sized plot of L'Hermite with its sandy-clay loam. Philippe points out that the Syrah from each block brings complementary components to the wine. Bessards provides structure, while Les Greffieux imparts concentration. A dark minerality comes from L'Hermite, while Les Murets provides finesse. Guigal produces Ex-Voto in only the best years. The last time they opted not to was 2014. Philippe says they are unsure about making Ex Voto in 2021 because it was a rainy growing season. He notes that savvy consumers rush to buy their classic Hermitage in years when no Ex Voto is made because it contains grapes that would have gone into that upscale prestige bottling.
Back to the classic Hermitage. Although regulations allow the use of a small percentage of white grapes in red Hermitage, Guigal's uses only Syrah. The classic Hermitage undergoes roughly four weeks of fermentation in vats before being aged in oak barrels, 50 percent of which are new, for 36 months. Despite what seems like a lot of oak aging, Guigal's Hermitage, even when young, is always in balance and not marred by oak flavors. Philippe believes this is because the wine always has adequate concentration and because they have their own cooper, giving them total control over the quality and character of the barrels they use.
Over the last several weeks, I've consumed, with dinners, five vintages—1978, 1983, 1985, 1990, and 2000—of Guigal's classic Hermitage from my cellar. Guigal produced all of them before they purchased any vineyards in Hermitage. Three points stand out. Firstly, these wines develop magnificently with bottle age. Secondly, they never seem to tire, even at 40+ years of age. Thirdly, Hermitage takes a long time to reveal its grandeur: the 2000 was barely ready to drink and still youthful at two decades of age.
Three final points. 1) Don't overlook wines made by top négociants. 2) Judge the wines, not the technical data. Here are five examples made from purchased wine and aged seemingly for too long in oak barrels. And they're great! 3) The most important thing on the label is the producer's name.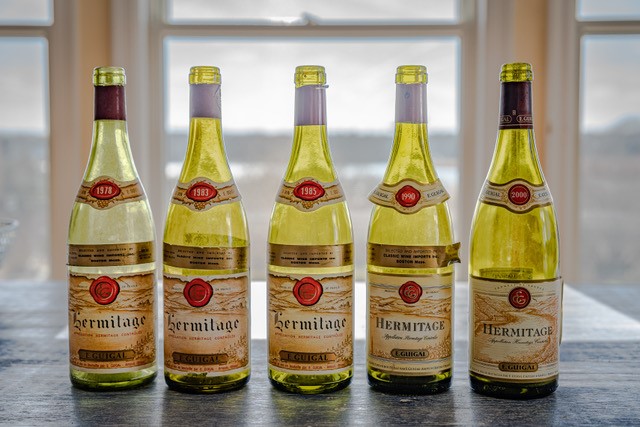 Photo credit: Dee McMeekan
The wines in this tasting
E. Guigal 1978 Hermitage                   96
An alluring mellow meatiness has replaced the youthful power and black pepperiness of the now suavely textured 1978 Hermitage. Floral aspects amplify its charms. Each sip brings additional nuances. Perfectly mature, it remains pristine and lively, not tired in the least. I doubt further evolution is in the cards for this polished and refined Hermitage, but I suspect it will remain on a plateau for another decade. Drinking window: 2023 – 2033.
E. Guigal 1983 Hermitage                   92
The lighter weight 1983 displays a delectable combination of beefy undertones and floral red fruits. Savory elements accent this fully mature Hermitage, which seems to have faded compared to the 1978. Drinking window: 2023 – 2028.
E. Guigal 1985 Hermitage                   97
This remains a monumental Hermitage, showing an explosive youthful power without a trace of heaviness. Its concentration suggests it's more than eight years younger than the 1978. A marvelous meaty element offsets black fruit and minerality. But the wine's suave elegance and freshness are what's captivating. The finish of this pristine wine is seemingly endless. Drinking window: 2023 – 2043.
E. Guigal 1990 Hermitage                   97
Like the glorious 1985, Guigal's bold 1990 Hermitage exudes power and grace though with a more youthful edge. Exotic spices and dark black fruit-like nuances accent its meaty, almost bloody, character, producing a ying-yang of fruit and earth. Through it all, Guigal's signature, a suave texture, is clear. For all its presence, it's not a heavy wine. Drinking window: 2023 – 2048.
E. Guigal 2000 Hermitage                  93
Surprisingly youthful, Guigal's energetic 2000 Hermitage was supple and suave, but lacked the enthralling meaty and savory nuances that appear as Hermitage ages and matures. Don't get me wrong, it's a delight to drink now, especially if your tastes run to bold dark fruit flavors because it's balanced and fresh. But to me, Hermitage has more to offer as it matures, so I would continue to cellar this stately beauty for another five years. Still, if someone opened it to accompany a steak from the grill, I'd happily take a glass or two tonight. Drinking window: 2028 – 2048.